Fall Fest will Put People of All Ages in the "Spirit" of the Spooky Season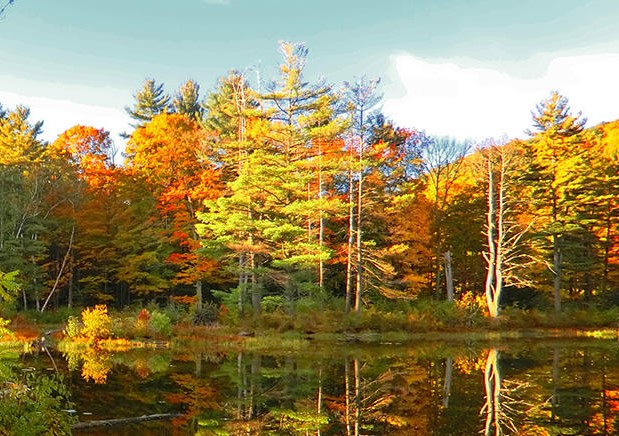 Mass Audubon is inviting one and all to celebrate Fall Fest, a week-long Halloween party full of seasonal and spooky-themed activities beginning Saturday, October 24 and running right up to the Big Night itself, Saturday, October 31. The statewide conservation nonprofit wants to help make autumn even more awesome for all ages, with lots of online and in-person opportunities to connect with nature and build community.
Here's just a small bag of treats (no tricks): Crunch through fallen leaves on explorations of Mass Audubon's statewide network of wildlife sanctuaries. Join with other crafters to make fall-themed gifts. Check out seasonal volunteer projects. And don't be afraid to go all in on a silent-auction "fun-raiser" and bid on exclusive Mass Audubon experiences like private strawberry-picking, visits with goats, Cape Cod adventures, and much more.
Of course, there will be plenty of events to provide chills and thrills for families and children: Meet creatures of the night (hint: including some that hoooot). Gather round to hear spooky stories. And unleash your inner wild thing, howling and yowling on the evening of the 31st, when Halloween reveals a "blue moon" (a second full moon in a calendar month).

Visit www.massaudubon.org/fallfest for information about all of this and more—including our statewide pumpkin carving (or painting) contest, and self-directed crafts and activities for the young and young-at-heart.
Mass Audubon protects more than 38,000 acres of land throughout Massachusetts, saving birds and other wildlife, and making nature accessible to all. As Massachusetts' largest nature conservation nonprofit, we welcome more than a half million visitors a year to our wildlife sanctuaries and 20 nature centers. From inspiring hilltop views to breathtaking coastal landscapes, serene woods, and working farms, we believe in protecting our state's natural treasures for wildlife and for all people's vision shared in 1896 by our founders, two extraordinary Boston women.
Today, Mass Audubon is a nationally recognized environmental education leader, offering thousands of camp, school, and adult programs that get over 225,000 kids and adults outdoors every year. With more than 135,000 members and supporters, we advocate on Beacon Hill and beyond, and conduct conservation research to preserve the natural heritage of our beautiful state for today's and future generations. We welcome you to explore a nearby sanctuary, find inspiration, and get involved. Learn how at