BACK TO WORK RHODE ISLAND:ARTIFICIAL INTELLIGENCE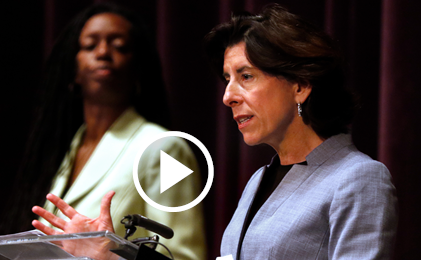 COVID-19 has disrupted our lives and hurt our economy both nationally and locally, putting far too many Rhode Islanders out of work. As we rebuild our economy, we can't go back to the old "train and pray" model. We need to build on the new paradigm that's created thousands of jobs in Rhode Island over the last few years – "train, support, hire." That's what our Back to Work program is all about, and today I'm excited to announce a new resource available to job-seekers through this program.
In partnership with Google and the tech-for-social-impact nonprofit Research Improving People's Lives (RIPL), we're launching a Virtual Career Center and a first-of-its-kind Artificial Intelligence-powered job-matching tool to help Rhode Islanders who are out-of-work.
Today, if you go to BackToWorkRI.com, you can get started with the basics of this new job resource. First, you can search and apply for the 100 job openings and more than a dozen job training programs that have already been created through Back to Work. You can chat with "Skipper" – our new virtual assistant – who can direct you to available job resources. And you can complete a career recommendation assessment, where you fill out information about your skills and interests to receive personalized notifications when there are job openings that might be a good fit.
Within the next month,  BackToWorkRI.com will also house the Virtual Career Center, bringing together all our state's job resources and supports. You'll be able to schedule a virtual meeting with a career coach and job recruiter. You'll be able to work on your resume and have it edited for free by a professional coach. And "Skipper" will get more advanced and be able to help you by asking personalized questions and steering you to job opportunities that are the right fit.
All of this is part of our existing $45 million commitment to Back to Work RI. If you're looking for a job, please take a look at the site and let us know what you think. Together, we're going to show the nation how to kick-start an economy that puts workers first.
We're all in this together.
-Gina Raimondo
Governor