RHODE ISLAND HERITAGE MONTH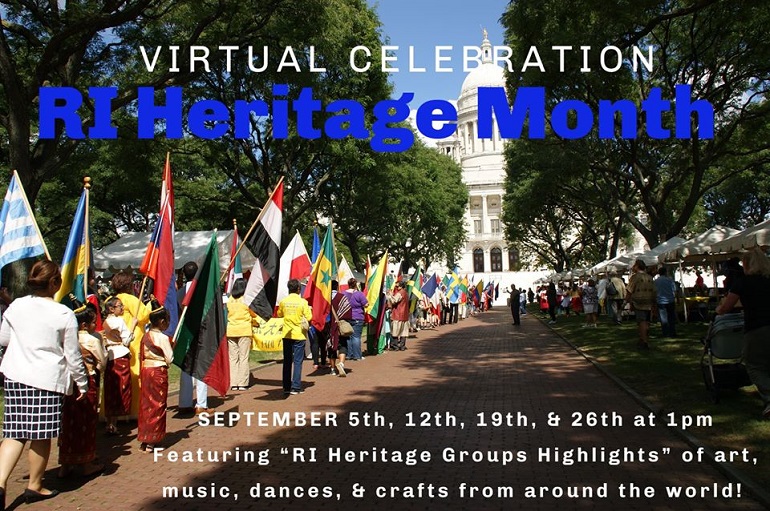 RIHPHC is transforming the RI Heritage Festival into RI Heritage Month .  Every Saturday in September, we will host a 60-minute virtual event on Zoom featuring "Heritage Highlights"  from cultural performance groups, heritage museums, and cultural organizations as well as hands-on activities like crafts and cooking. Stay tuned for more information on how you can attend these exciting cultural events!
RIHPHC is listening
Just like the RI Heritage Festival, many preservation and heritage programs are moving online.
RIHPHC staff are sharing recommendations for free online media in Rhode Island and beyond. Sign up in advance for programs with upcoming dates –or tune in any time to view recordings.
Dismantle Preservation Virtual Unconference (7/28)
Little Compton Historical Society's VirtualAnnual  Meeting (8/14)
Newport Historical Society's Civic Conversations series (ongoing)
Society of Architectural Historians' SAH Connects–includes Race and Modern Architecture (7/31), Removal of Confederate Monuments (7/14), and more
Stages of Freedom's Connected platform (ongoing)
Virginia Humanities Council's Self Preservation: A Juneteenth Online Conversation About Black Historic Preservation (6/19)
We'd like to hear from you. . .what are you listening to?
Read on. . .
Time Magazine recently reported on "The Uncertain Future of Places that Preserve America's Past." Featuring Trudy Coxe of The Preservation Society of Newport County, the article considers the devastating economic impact COVID-19 is having on museums and historic sites.
What are the solutions? Developing new online content for remote visitors and welcoming local visitors who seek engaging experiences close to home.