New Balance Falmouth Road Race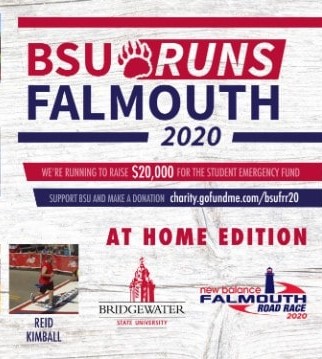 This will be the sixth year that Bridgewater State University participates in the New Balance Falmouth Road Race. Due to the pandemic, this year's 7 mile race will be virtual and our team will participate by completing the race on their own between August 15 and August 29.
This year's team of 13 runners consists of students, alumni, parents, faculty and staff. They are committed to raising a minimum of $1,000 each for the BSU Student Emergency Fund and need your encouragement now more than ever! 
The Student Emergency Fund assists currently enrolled students facing financial hardships due to emergency and crisis situations. Several of our students have recently utilized these funds due to financial difficulties from the COVID-19 outbreak.
"I am truly grateful and can not thank you and the BSU community enough for your help! Bridgewater has done so much for me and I can not wait to do the same for someone else some day." – Nate M.
We are halfway to our goal with less than a month to go.  Please consider supporting Team BSU.  Your gift helps ensure that every BSU student has the necessary resources they need to succeed.
Show your support of Team BSU by 
You may also click on a runner's name below to donate to their individual fundraising page and learn why they are running for BSU. Thank you!