Weaver Library to Screen Estevez Film "The Public" and will Host a Community Conversation with Media Literacy Experts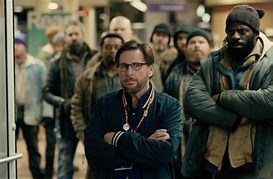 EAST PROVIDENCE, R.I. – East Providence's Weaver Library will stage a free screening of the "The Public", starring Emilio Estevez, Alec Baldwin, and Christian Slater, and host a pre- and post-film discussion about the film's themes and the role of public libraries with media literacy expert Pam Steager on Sunday, January 26, 2020 at 1:30 pm

The film explores the "public" responsibilities – and attendant challenges — of public libraries, and the role libraries, and their open doors, play in confronting social issues like homelessness, mental illness, and the opioid crisis.
The post-screening discussion will include the importance of media literacy education for all citizens, and the role libraries can play in this regard. The event is co-sponsored by the Media Education Lab at URI, and is free and open to the public.
About the film: In "The Public", a brutal cold snap hits Cincinnati and one of the city's most vulnerable populations – the homeless – are even more at risk. The staff of the public library, which serves as a daytime shelter for this population, is already challenged by the needs of these patrons.
When they stage an Occupy-like sit-in, refusing to leave the library and go back out into the cold at closing time, things get even more challenging. When city government officials, the police, and the media get involved, the heat increases for the library's director. |119 min |Drama 2019 | 
Recommended for ages 13+.
Literacy expert Pam Steager is a Senior Trainer, Researcher and Writer at the Media Education Lab at URI, and has trained more than 4000 educators, librarians, students, parents, and journalists throughout the United States and internationally. With co-authors Renee Hobbs and Liz Deslauriers, she wrote The Library Screen Scene, a book on film and media programs in school and public libraries, published by Oxford University Press in 2019.
Weaver Library is located at 41 Grove Avenue, East Providence, RI. For more information, contact the library at 
401-434-2453.