SPEAKER SERIES TO HIGHLIGHT
SHIPS OF THE UNITED STATES LINES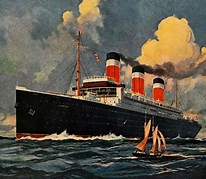 Three-part series will kick off on February 1
It may not feel like Fourth of July outside right now, but the Ship History Center is going to have a distinctly American flair for the next several months. Part of the Steamship Historical Society of America's upcoming Ocean Liner Gala V celebration of the United States Lines, the Warwick nonprofit is hosting a round of exhilarating stories about some of the greatest ships to fly the Star-Spangled Banner.
The three-program event will lead off with "SS Leviathan – America's Grandest Ocean Liner," featuring Richard Rabbett, former SSHSA board member and longtime supporter.
When: Saturday, February 1, 10:30 a.m.
Where: Ship History Center, 2500 Post Road, Warwick
Register: blucier@sshsa.org, 401-463-3570
The Leviathan marked the resurgence of the U.S. Merchant Marine at the end of World War I. Originally launched as Vaterland, the second of a trio of massive liners built by Germany, the ship was seized by the United States in 1917 and re-purposed as the American troopship USS Leviathan during the Great War. Ultimately ceded to the United States as war reparations, Leviathan underwent the most extensive – and expensive – ship reconditioning effort attempted at that time, emerging as America's Queen of the Seas. She proudly served as the flagship of the newly established U.S. Lines from 1923-1938.
Richard Rabbett is the Director of Faculty Affairs for the dental school at Boston University. He was a founding board member of the SS United States Conservancy, which now owns the SS United States, and seeks to preserve her for future generations. He holds a bachelor's degree in history, with honors, from Boston University and owns one of the largest private collections of ephemera from the SS Vaterland/Leviathan.
The program is free and open to the public, but space is limited.
This is a great chance to visit the Ship History Center if you haven't been here for a while and to meet with some of your fellow ship lovers. Future programs in the U.S. Lines series will include "The SS United States: Origins, Triumphs and Future Prospects" with SS United States Conservancy Executive Director Susan Gibbs on Saturday, April 4, and "The Founding of United States Lines: A Tale for its Time" with former U.S. Lines executive Douglas Tilden on Friday, May 1. Register now for any of the programs by calling SSHSA at 401-463-3570 or emailing blucier@sshsa.org.
About SSHSA: The Steamship Historical Society of America was founded in 1935 by seven amateur steamship historians. Eighty years later, it has grown to become the world's leading organization on the history of engine-powered vessels, with close to 2,500 domestic and international members in more than a dozen countries.