The Day We Walked on the Moon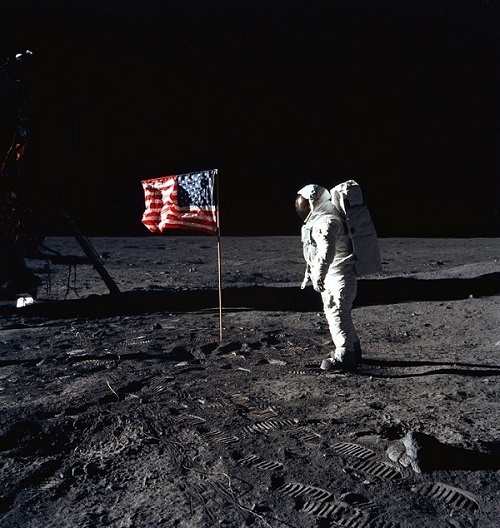 MoWC Joins Smithsonian Channel's Apollo 11 Celebration with Screenings of The Day We Walked on the Moon
WOONSOCKET, R.I. – The Museum of Work & Culture invites the public to celebrate the 50th anniversary of the moon landing on Saturday, July 20 with two free screenings of The Day We Walked on the Moon, a new documentary from the Smithsonian Channel at 10 am and 1 pm. The Museum is one of 50 Smithsonian-affiliated institutions across the country participating in the event.
Astronauts (including Michael Collins, the third member of the Apollo 11 mission), members of Mission Control (including Flight Director Gene Kranz, Capsule Communicator Charles Duke and Guidance Officer Steve Bales) and the children of Neil Armstrong and Buzz Aldrin reveal their personal stories behind the scenes of the iconic day. Pop culture notables like Queen guitarist and doctor of astrophysics Brian May and television personality and professor of physics Brian Cox describe where they were and what they felt during that "One Small Step." It's a story that ranges from the deeply personal to the grand and historic, an in-depth look at one of the most important 24-hour periods in history.

The Day We Walked on the Moon will continue to air on Smithsonian Channel throughout the month and is available to stream on the Smithsonian Channel app and at SmithsonianChannel.com. Smithsonian Channel is available on all major television distributors.

About the Museum of Work & Culture
The interactive and educational Museum of Work & Culture shares the stories of the men, women, and children who came to find a better life in Rhode Island's mill towns in the late 19th- and 20th centuries. It recently received a Rhode Island Monthly Best of Rhode Island Award for its SensAbilities Saturdays all-ability program.