Museum of Work & Culture Announces Summer SensAbilities Program 
Free Admission and Therapist-Led Activities on Mondays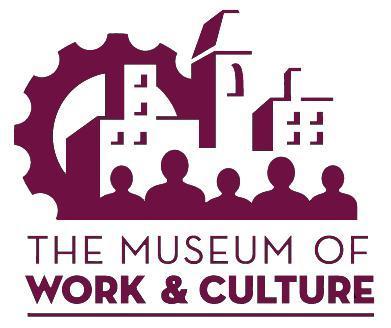 WOONSOCKET, R.I.) – The Museum of Work & Culture will launch its slate of summer SensAbilities programs on Monday, July 22.
Made-to-Order Mondays will provide free admission for families, day programs, and aides who wish to experience the MoWC in a low sensory, less crowded environment. Sensory elements such as lighting and sound are adjusted, and trained staff and volunteers are on hand to provide supplementary tools and offer tours to visitors who have children with special needs.
In addition, the program will provide families free access to therapist-led art and music activities designed to help children and teens with sensory sensitivities engage creatively with the MoWC's themes.
The first of these programs will be held on Monday, July 22, at 12pm with Board-Certified music therapists from Hands in Harmony, Inc.. Participants will have the opportunity to play with percussion and string instruments, engage with rhythm, repetition, and composing.
On Monday, August 5 at 9am art therapists will lead "Power Animal," a fiber arts session in which visitors will create a stuffed felt "power animal." Participants will be invited to consider qualities they want to strengthen within themselves, or positive energies they would like to bring into their life, and an animal that represents such. Goals for the activity include self-reflection/awareness and materials exploration through a strengths-based approach. Participants will learn how to sew, stuff, and decorate their power animals.
Each session is open to up to 10 participants, and registration is required. Families can register by emailing mowc@rihs.org or calling (401) 769-9675.
These events are free and made possible with the generous support of CVS Health Charity Classic.
Made-to-Order Mondays is a part of the MoWC's SensAbilities program. Additional offerings include SensAbilities Saturdays, when the MoWC opens an hour early on the second Saturday of each month for families seeking a less crowded environment in which to enjoy features and exhibits. The MoWC also offers tools to help parents and caretakers prepare for their visit. A social story has been created as a step-by-step illustrated guide to help those on the autism spectrum navigate exhibits. Additionally, the MoWC provides checklists and "first-then" boards to better control time and sequence. These materials are available in the MoWC and on the Rhode Island Historical Society's website.
SensAbilities Saturdays was selected by Rhode Island Monthly as the "Best of RI Editors' Pick: Special Outreach Program" in their August 2016 issue.