Pond Home's Most Recent Expansion & Renovation Complete
June 2019—Wrentham, MA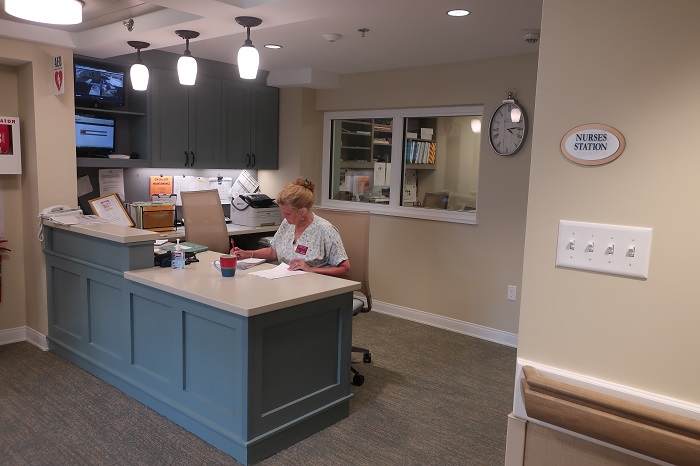 Pond Home's Administrator Rebecca Annis is pleased to announce the completion of Pond Home's most recent renovation and expansion project.  This project included an expansion of the first floor nursing station, as well as additional renovations. 
According to Annis, the not-for-profit retirement home chose to take on the project to allow for increased working room for their nursing staff in addition to space to allow for organized collaboration with the many support services utilized in providing comprehensive medical care to the 43 residents who call this beautiful colonial house, home.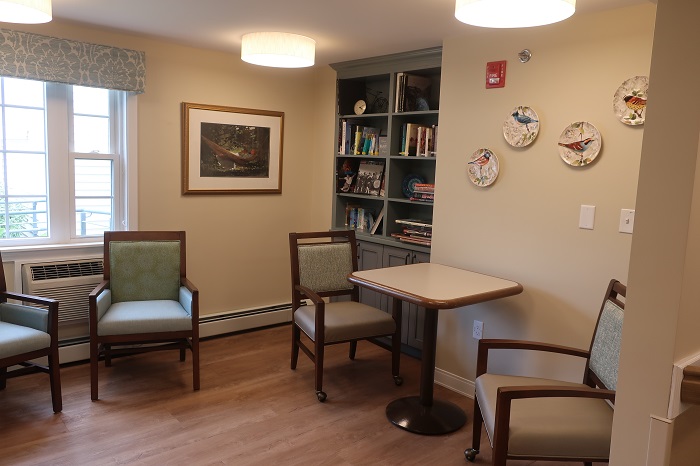 The 700 square foot addition on the back of the home includes a larger nurses' station, work stations for medical staff, exam room, and medication room.  The previous nurses' station was converted into a café area for resident and family use, overlooking Blooming Corner, a lovely garden courtyard.  This is the most recent addition to Pond Home, which in 2019, is celebrating its 120th year of serving elders. 
All residents living at Pond Home have the option of having their medications managed by the Pond Home nursing staff.  This includes ordering prescriptions, distributing medication per doctor's orders, and follow up with the resident's primary physician related to any reactions or concerns.  Other medical services provided on site at Pond Home include primary care physician services, physical therapy, occupational therapy, speech therapy, x-ray, lab testing, mental health services, audiology, podiatry, dental, and ophthalmology services, as well as hospice and palliative care.
About Pond Home
From its pastoral setting, to its home-cooked meals, to its attentive and devoted staff, Pond Home is a retirement home for seniors who want to live in a secure and caring environment while enjoying the companionship of their peers.
Pond Home offers Residential Care and Supportive Nursing Care in a beautifully maintained colonial home on Route 140 in Wrentham, providing all meals and 24-hour nursing care. It is managed by Rogerson Communities, a Boston-based non-profit recognized as a leader in the management and development of elder housing and services. To learn more about Pond Home please call 508-384-3531, or visit www.pondhome.org. Also, follow Pond Home on Facebook by liking its page.